by Sam Whiting

Growing up a quiet person in a quiet place in Wisconsin, Beth Moon would spend hours, days even, examining the Earth from a perch in the giant oak in her backyard.
Years later and raising three little kids in noisy London, Moon was still quiet and contemplative, so she went looking for a replacement oak. When she found what she was looking for — the famed Bowthorpe Oak in Lincolnshire, a two-hour train ride away — she did not attempt to climb it, seeing as how she was in her 40s and the tree was on private property. Instead she spent half a day waiting for the light to be just right to make a photographic study.
A few months later, Moon read in the paper that the Bowthorpe Oak, which is an estimated 1,000 years old and may be the oldest and largest oak in England, had been severely damaged in a storm. Moon looked at her prints and realized at once that she was a professional photographer with a mission — to research, hunt down and make pictures of the most graceful trees, first in England, then in California, then all over.
"The fragility of these trees is what hit me," says Moon, who published her photos in Ancient Trees: Portraits of Time, released by Abbeyville Press, in September.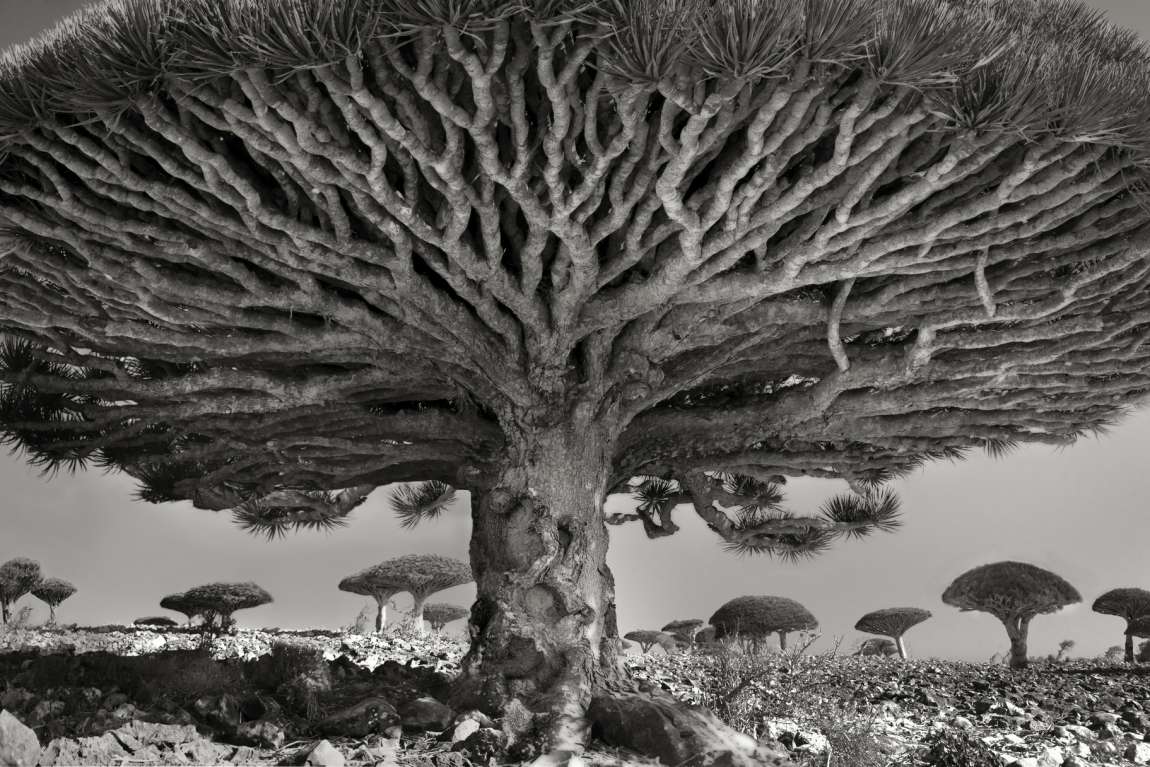 "Sixty of my favorite trees from around the world," says Moon, 59, who lives in Novato and in an interview makes it clear why she prefers the company of trees. A nod is her customary response to a line of inquiry. She won't talk much about herself or her artistic impulse, but she will talk at length about the individual trees that she has traveled great distances to visit, in some cases at personal risk. Yemen, where al Qaeda has a strong presence, would be one.

"Dragon's blood trees from Socotra. Baobabs that only exist on the islands of Madagascar," she says, during a visit to her prints at Corden/Potts Gallery at 49 Geary. "Israel, Cambodia, Botswana."
England was a good place to start because the British are known to love and honor their trees even more than they love and honor their dogs. The most important trees have names, and there was a tree registry to guide her to the Bleeding Yew of Nevern, the Knaphill Weeping Beech, the Great Western Red Cedar of Gelli Aur, the Croft Castle Chestnut, and so on.
"Each tree would have a story behind it," she says. "They were just magnificent subjects."
Beth Moon | The Queen Elizabeth Oak, 2004 | Platinum / palladium print | 22 x 30 inches
Moon would haul her medium-format camera, tripod and usually one or more of her kids onto trains to all points in the English countryside, Wales and Scotland. Once there, she'd spend all day waiting for the light to be just right. Her dedication and the quality of her black-and-white prints earned her a solo show at the Blue Gallery in London, and the project gained momentum when her English husband, Peter Moon, moved the family to Novato 15 years ago.
Trains gave way to car rides up and down the coast to shoot the giant sequoias, the redwoods, the Joshua trees and the bristlecone pines. The farther she went, the more time she spent.
"I like to be able to assess the light and camp right underneath the trees I'm photographing," she says. "I slept in the Frankincense Forest in Yemen, and under these baobabs in Botswana. Fabulous. I'd get this feeling of being alive and connectedness that I don't know that you can get anywhere else."
Sleeping in the trees gave her the idea for the subsequent series she is at work on now — shooting the ancients on moonless nights, in color.
She has searched the world over for trees but she has never searched Neenah, Wis., to see whether that first oak is still there.
"I don't even know if I would remember where the house is," she says.