by Jonathan Curiel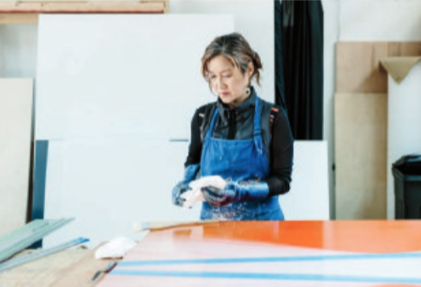 "Standing in her San Francisco art studio, Bernadette Jiyong Frank is surrounded by half-finished paintings that are already in demand—sought by collectors eager to own one of her Spaces in Between canvases. Each features atmospheric layers of thin, translucent rays, painstakingly brushed on and dried, one ray a day, to produce a kind of transcendent refraction that has turned Frank's ongoing series into a hit.
Frank, 52, only became a full-time artist in her mid 40s, after a career in marketing and design. Of Korean descent, she was born and raised in Japan until age 13, when she moved with her family to the Bay Area. She didn't know she was ethnically Korean until age 10. The "in-between-ness" that Frank paints references both her upbringing and the Japanese concept of ma, the space between two structural parts."
The issue is accessible online
here
(p. 72).