by Frederic Godward

Danae Mattes | Under Blue, 2009 | Clay, paper, and pigment on canvas | 64.5 x 90 inches
The ever-changing face of the Earth, nature with its endless cycles, atmospheric effects and their countless hues have always held a grip over visual artists. Danae Mattes is no exception. Tracing the footsteps of the visionary Turner, through the poetic mist of Thomas Wilmer Dewing and beyond, she creates her own impressions of the world that is as much visible and tangible, as invisible, as that of the soul. Not exactly landscapes per se, not so much of the land, but rather appearing to be made of water in all of its natural states of matter – they are transitory waterscapes infused with the idea of permeability.

Danae Mattes | Lake Interior, 2014 | Clay, paper, and pigment on canvas | 66 x 78 inches
Named Harbor, Lake Interior, Pool, and Water Reservoir, her works are places of motion, of transition. Mattes pursues the sublime through the watercourses of her mind, creating "maps" of time spent in nature. The viewer is able to "feel" them, to experience them from the inside, not so much as an observer but as a participant actively shaping the event.
A native of Rochester, Pennsylvania, Danae Mattes was born in 1958. She earned her BFA from Edinboro State University in Pennsylvania in 1980, and her MFA from Long Beach State University in 1984. Her work having been a subject of numerous solo exhibitons, more than a few pieces of it hang at the San Jose Museum of Art; the Crocker Art Museum, Sacramento; and the Schlossmuseum Landeck, Austria. Mattes also created a memorial for the 1992 arson attack at Mühlenstrasse 9 in the city of Mölln, Germany, along with various other commissioned public artworks.


Danae Mattes | Fen 1, 2014 | Clay, paper, and pigment on canvas | 36 x 36 inches
Danae Mattes' creative process is a unique one, threading a fine line between two and three-dimensional work. With clay as their base, her paintings have an almost sculptural presence. They are created by hand as much as generated by the environment. Borrowing some techniques from decay art, Mattes uses the earth to conjure the earth, so to speak. By artificially establishing conditions present in nature, the artist makes geologic formations and alluvial phenomena appear on the surface, shaped by moisture introduced, humidity and temperature levels in the studio, as well as the influence of gravity by periodically reorienting the canvases as they dry. Created from fiber, clay and pigment – the purples, ochres, the greens and the grey blues articulate and intensify the sense of movement over the ever-changing texture of earth and water. Over time, images, shapes, forms and patterns are revealed as color drains across the sloped canvases, symbolising a dynamic ecosystem that surrounds us all.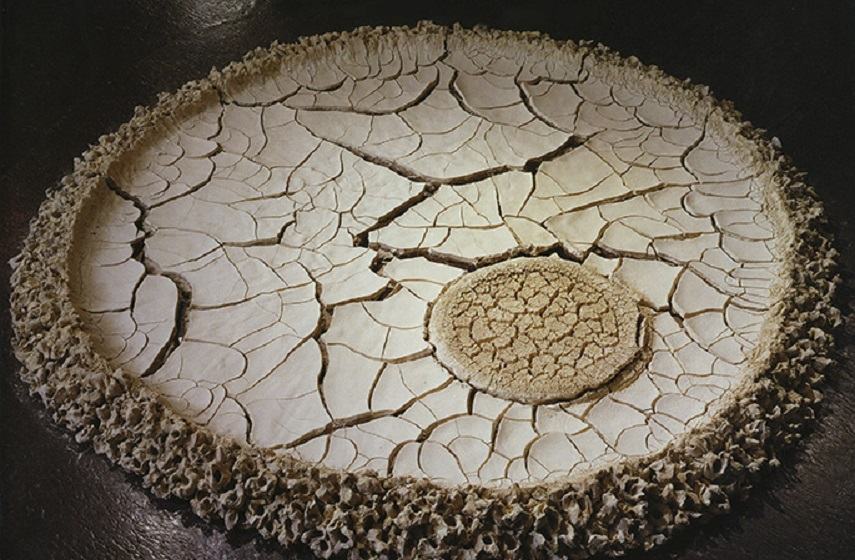 Danae Mattes | Evaporation Pools process piece, 2003 | Sonoma Museum of Visual Art, CA
Danae Mattes' Alluvial Maps, an exhibition of new work at the Dolby Chadwick Gallery, will open on Thursday, November 3, 2016, with a public reception from 5:30-7:30pm. Matters' mesmerizing landscapes (or rather, transitory waterscapes, as she prefers to call her paintings) will be on show until December 3, 2016 and will offer the visitors a glimpse both into the way the artist views nature, as well as her inner world. The gallery is located on 210 Post Street, Suite 205, San Francisco, CA.