by Angie Kordic

Kai Samuels-Davis | Separations II, 2015 | Oil on panel | 

16 x 12 inches
How can we define "wilderness"? Is it a physical or a psychological place? In Kai Samuels-Davis' art it is both, as the artist delves into the meaning of solitude, representation and existence at large. For his second solo exhibition at San Francisco's Dolby Chadwick Gallery, he will present a new series of paintings featuring portraits, landscapes and still lifes, and executed with less traditional tools. Like movie captions, these artworks depict abstract characters frozen in time – their story is paused for a brief moment of reflection, and their past and their future remains unknown. As we stand before them, we witness their slow arrival to this very state and we identify with them to the point where the paintings almost become crystal clear mirrors.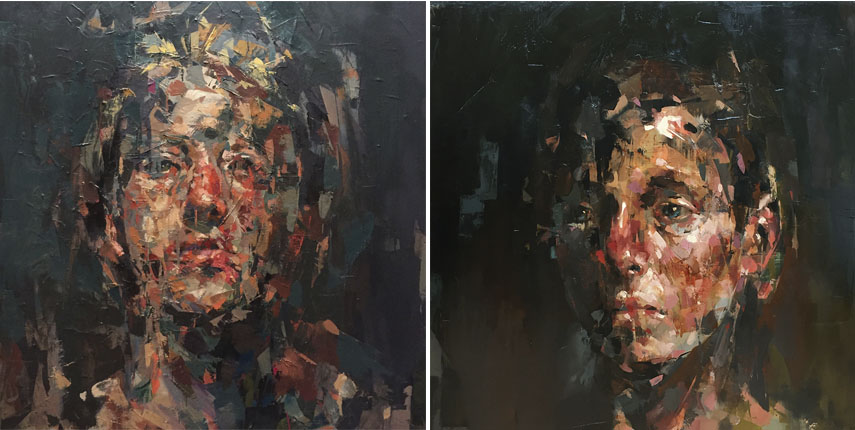 Kai Samuels-Davis | Left:
In Darkness Apparent
; Right:
The Wilderness II
, both 2016 | Both oil on panel | Left: 36 x 30 inches; Right: 36 x 36 inches
For Kai Samuels Davis, art is there to transform his subjects, to make their identity irrelevant and universal in order to respond to the painting itself. They are male and female, personal and universal, unknown and familiar, all at the same time. Inspired by the cinematic aesthetics, coming from the artist's own education in film, the artworks explore "wilderness" as a both metaphorical and realistic place, a space often oozing in solitude, yearning, anguish that all human beings come to experience sooner or later. It is a narrative created through both creative vision and remarkable skills of Kai Samuels-Davis, a narrative that offers multiple points of view, but apparently one understanding of the scenery before us; which will, however, resonate differently with each viewer.


Kai Samuels Davis | Left: The Evening So Soon, 2015; Right: The Wilderness, 2016 | Both oil on panel | Left: 14 x 11 inches; Right: 60 x 48 inches
Drawing inspiration from a rich history of figure painting in the history of art, Kai Samuels-Davis paints canvases based on personal or found photographs, sometimes utilizing multiple images of the same figure depicted from various angles. Through specific creative processes, such as mark-making with instruments like rubber squeegees and scraping tools, he employs repetition and creates layers of paint in an intriguing composition. As such, Kai Samuels-Davis's marks are expressive, simultaneously quick and slow, as they reveal their subject one brushstroke at a time. His paintings are built-up, then broken down and distorted, until he finds that raw, genuine mental state that will be unveiled to the viewer from its every side and point of view.


Kai Samuels-Davis | Left: The Light I; Right: The Light II, both 2016 | Both oil on panel | both 14 x 11 inches
Through the physicality of the paint and the tools that guide it, Kai Samuels-Davis gives life to portraits that subsequently become self-portraits as well, storytelling pieces of reality modified and pushed to their very limits of representation. Wilderness, a solo exhibition of works by Kai Samuels-Davis, will be on view at Dolby Chadwick Gallery in San Francisco, CA, USA, from October 6th through 29th, 2016. The opening reception is scheduled for October 6th, from 5.30pm to 7.30pm.