by Lorenzo Pereira

Charley Brown | Untitled, Trio (2015) | Oil on pasted canvas | 60 x 80 inches
San Francisco-based Dolby Chadwick Gallery is organizing another amazing show – this time, it is Charley Brown exhibition featuring new works by this American painter from California. We saw great exhibitions recently at Dolby Chadwick Gallery; for example, the show with works by Ann Gale (on view until April 2), and the show with works by Edwige Fouvry titled Ô temps, suspends ton vol! (on view until April 30). Dolby Chadwick Gallery has announced its second exhibition of abstract paintings by the San Francisco artist Charley Brown. Although Brown distances himself far away from any kind of artistic statement, his art could definitely be described as abstract art, where abstraction allows Brown to explore formal ideas always present in the representational work, but in a condensed and direct way.

Charley Brown | Left: Untitled, Intersection #5; Right: Untitled, Intersection #11, both 2015 | Both oil on pasted canvas | Both: 72 x 48 inches
Charles Brown was born in 1945 in Barstow, California. He studied at the Doxiadis School of Design, in Athens, Greece, and California College of the Arts, in Oakland, CA, receiving both his BA and MA in Art from Humboldt State University, in Arcata, CA. Brown's graphic use of black lines or gestures recalls paintings by the Abstract Expressionists Franz Kline, Robert Motherwell, and Pierre Soulages, as well as the oilstick drawings (or, indeed, the curved Corten steel sculptures) of the postminimalist Richard Serra. These are artists whom Brown readily acknowledges as influences. However, Brown's works are less about the drama of gesture, and more about how a restricted set of visual elements can be greater than the sum of its parts. Brown's deliberate process is the opposite of AbEx Sturm-und-Drang (Storm-and-Stress) improvisation, and might be likened to visual music – Stravinsky and Monk are two of the artist's favorites – rather than choreographic calligraphy, a la Pollock, and he similarly aims for a balance of classical and modern in his work.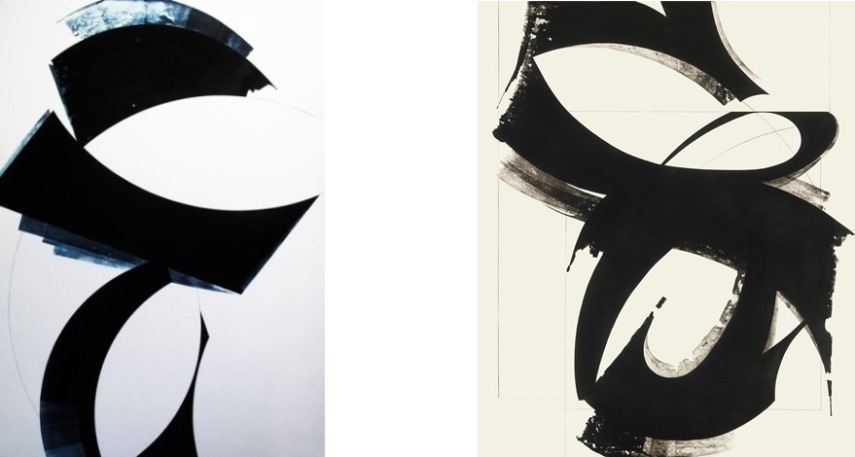 Charley Brown | Left: Epistrophe #5, 2016; Right: Untitled, Intersection #8, 2015 | Both oil on pasted canvas | Left: 84 x 60 inches; Right: 72 x 60 inches
Artist's Unique Technique
The paintings' compositions begin with small sketches in pencil on paper. The most promising ones, enlarged by photocopying, are adjusted and refined. They are then copied onto transparency film and projected onto specially prepared canvases that have surfaced with many coats of acrylic modeling paste, each sanded, and then finished with several coats of clear varnish. The contours are transferred to the canvas, dot by dot, using china markers. Brown applies black oil paint mixed, not out of the tube, with printmaking brayers, rather than brushes, going over each area repeatedly in order to eliminate unpainted 'holidays,' or white spots. He uses no tape to mask shapes, creating crisp edges only with rollers, blurred edges with a fingertip or other tool, and erasing with a rag wrapped around a fingertip. If this additive-subtractive technique sounds like monotype printmaking technique, it is essentially the same, although Brown discovered the method through his use of sgraffito, scratching through paint, on a restaurant mural commission. In some works Brown creates shadowy forms using a brayer with almost no paint, the repetition of forms spaced one brayer circumference apart creating a visual vibration, implying movement and change.

Charley Brown | Untitled, Serif #1, 2015 | Oil on pasted canvas | 48 x 80 inches
Charley Brown Exhibition at Dolby Chadwick Gallery
Brown's 2013 show, Divergence, showed the artist, a virtuoso draftsman and painter recognized for his talent from childhood, and skilled in many areas of artmaking during his peripatetic, diverse five-decade career, taking on abstraction as a technical and aesthetic challenge. So be sure not to miss this show! Charley Brown exhibition will be on view from May 5 until May 28, 2016 at Dolby Chadwick Gallery in San Francisco.